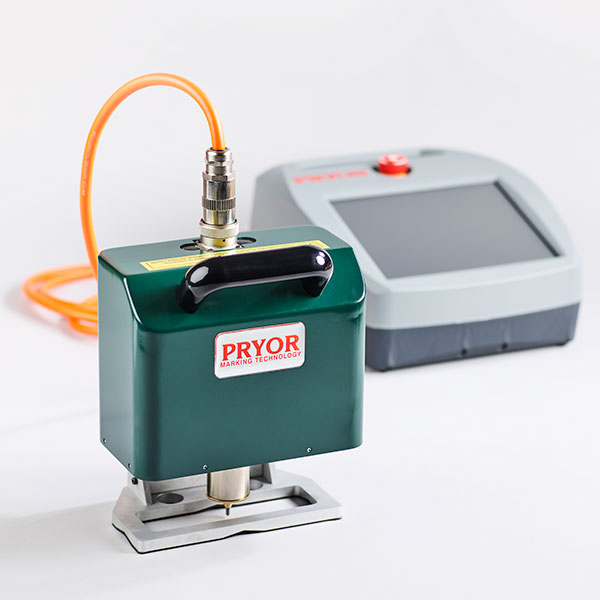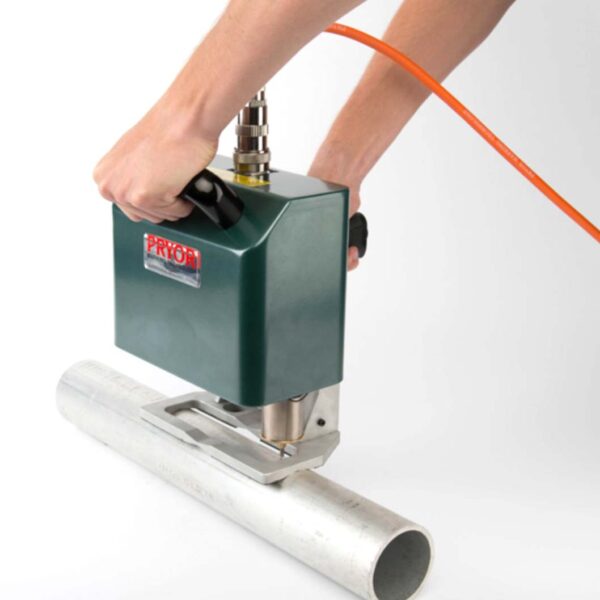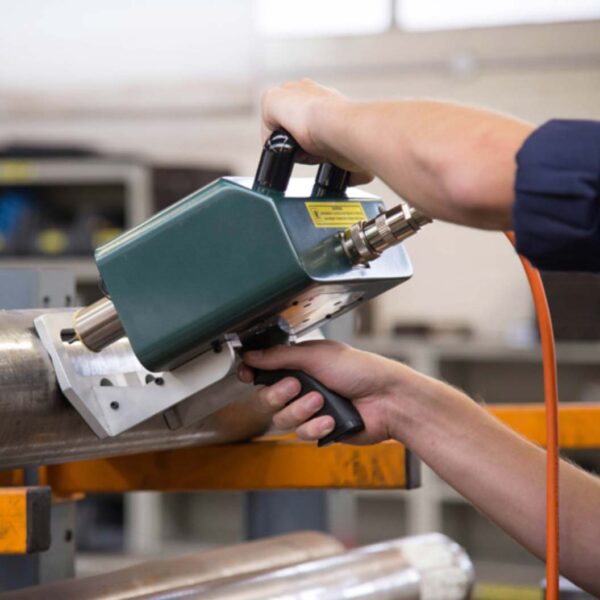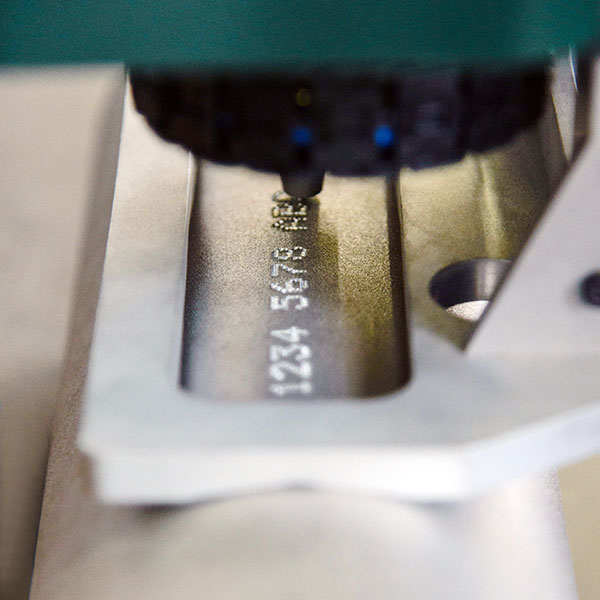 PortaDot 130-30
The Pryor PortaDot 130-30 is a robust and reliable handheld marking machine with a marking window of 130mm x 30mm. It provides a fast and portable method of dot-peen marking, otherwise known as dot marking. Ideal for marking permanent alphanumeric, logo or 2D barcode information onto high variety, immobile, large or heavy components.
High power electromagnetic solenoid, allowing deep dot peen marking with excellent consistency
A pneumatic version is available for  for extra deep
Inbuilt illumination system automatically actuated with motion sensor
Highly rigid V-shaped front mask with positioning scale
Robust aluminum casing for heavy duty industrial use
Often used in rail, oil and gas/pipeline, casting/forging, VIN marking, and construction applications
Controlled with 4000 Series Controller
Flat X/Y movement with no pivoting axis provides consistent marking depth throughout marking area
The standard machine is supplied with:

Electromagnetic solenoid
3m cable
Mains powered controller
Features
Deep Pneumatic Version
Video
Accessories
Features
Portable, Robust Dot Peen Marking Machine
130mm x 30mm marking window
Comes with Pryor's 4000 Series Controller as standard
Fully compatible with  Pryor's PC based Traceability Software
Standard electric version with the option of a pneumatic upgrade if a very deep mark is required
Standard Character Sizes: 0.09mm – 129.9mm in increments of 0.09mm (5×7 font) or  0.13 (7×9 font)
Dimensions: 238mm(H) x 220mm (W) x 173mm (L)
Weight: 6.5kg
Drive Mechanism: belt driven
Flat X/Y movement with no pivoting axis provides consistent marking depth throughout the marking area
Inbuilt illumination system automatically actuated with motion sensor
Two stationary motors for higher acceleration, speed and accuracy and no motor cable fatigue failures
In-built V-mask on both the x and y axes for marking curved surfaces
Connectivity Options: 1 x RS232, 1 x USB (that has the option of being removed to create 2 x RS232) and digital I/O (8 in 6 out) connectivity. Optional Ethernet TCP/IP and optional Field Bus
Cable length: 3m standard (6m or 10m optional)
Dot Mark output styles: 5 x 7,7 x 9,Varidot, 2D Data Matrix, HPGL, BMP Logos
Memory Capacity: up to 9000 layouts
Controller features industrial 10.4 inch touchscreen with additional option of connection an external keyboards
On screen mark preview and trial run features
Controller dimensions: 375mm x 335mm x 132 mm
Controller weight: 6.5kg
Power supply: AC Input 50/60Hz; 100-240VAC
Optional battery powered controller: 36V Li-Ion 3.0Ah/108Wh battery
Safety features: Remote start/Stop control box
Additional features: re-circulating ball-linear guideways to provide the highest marking accuracy
Head cable industrial steel connector to easily disconnect the marking head when needed
Pneumatic Air Supply requirements: Power 6 bar (87psi) non-lubricated, dry. (Deep Pneumatic version ONLY)
Deep Pneumatic Version
PortaDot Deep Pneumatic Dot Peen Marking Machine
The PortaDot Deep Pneumatic dot-peen marking machine is an incredibly mobile  impact marker capable of creating very deep marks. This product is ideal for oil and gas/pipeline marking, cast and forge marking and nuclear applications, or for creating deep identification marks that will later be coated with paint.
Portable dot peen impact marking machine
Capable of marking very deep marks
Ideal for oil and gas/pipeline, cast and forge marking and nuclear applications
Marks remain visible through paint coating
Lightweight and mobile
Requires pneumatic air system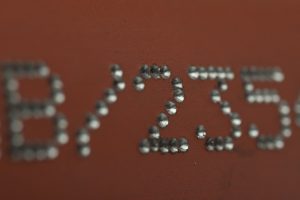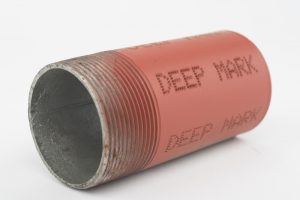 Video
Accessories