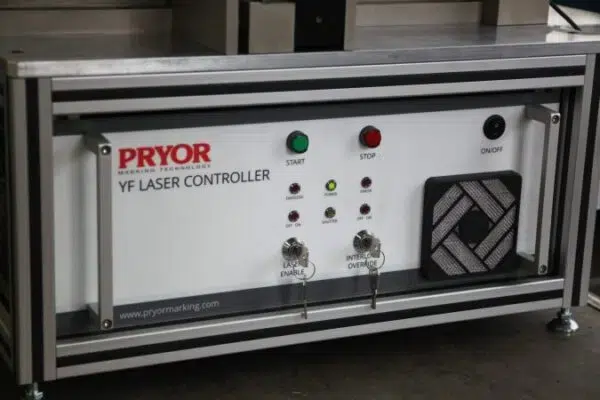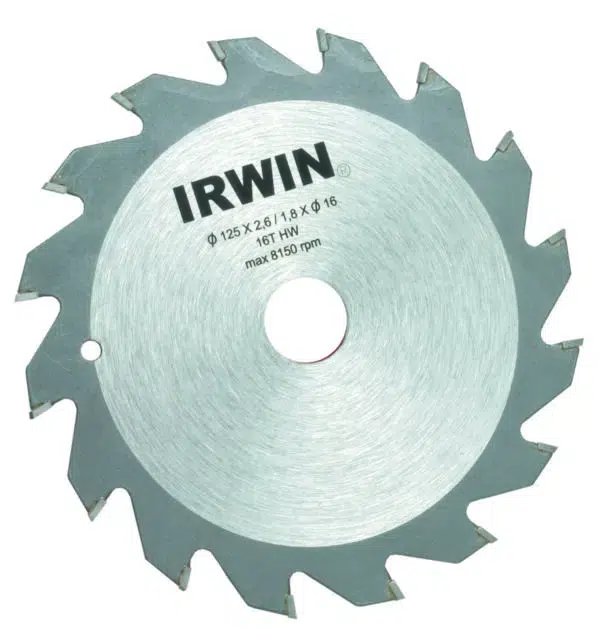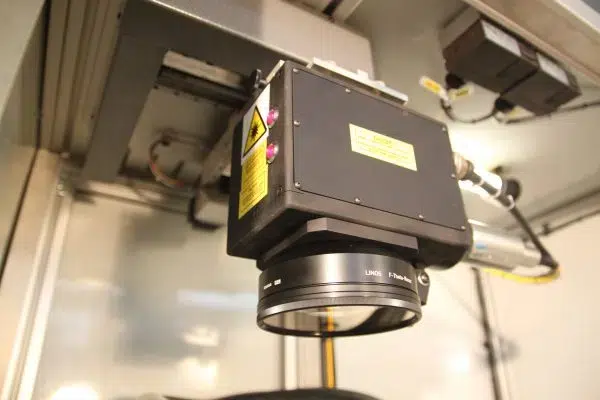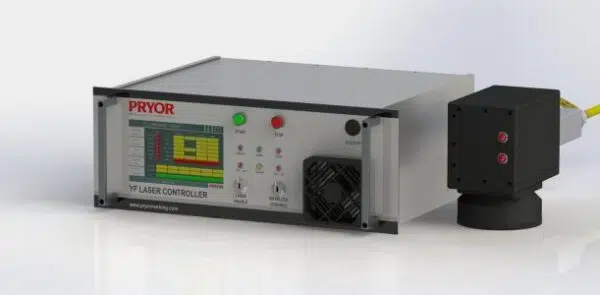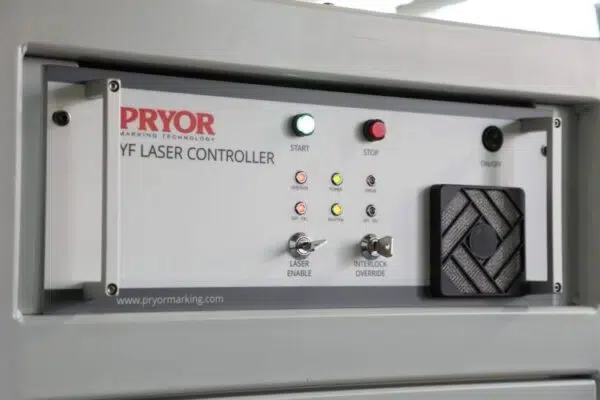 Integrator Laser System
The Pryor laser marking head can be supplied as a stand-alone class 4 product together with a rack mount controller for integration to a production line or cell.
The laser is easy to install and can be set up to mark on the fly. No fixturing required because the marking process is non-contact.
Ideal for flexible manufacturing, high-speed production lines and complex marking patterns.
Class IV Laser
Marks on a wide range of materials
Can be integrated into a production line or a turnkey marking cell
Ideal for high volume or high variety production
Permanent marking
Non contact marking
Marking on the fly
Features
Technical Data
Specification comparison
Laser Option Description
Accessories
Features
Laser marking is one of the fastest forms of marking, which makes it ideal to integrate into high-speed production lines. The compact Integrator Laser is easy to install and can even be set up to mark on the fly.
This non-contact form of marking leaves minimal debris and bears no consumable costs. Because it is non-contact, the piece being marked does not require additional fixturing or clamping, saving crucial production time.
With easily changeable wavelengths and frequencies, the mark is also highly variable and the laser marking cell is ideal for flexible manufacturing.
Key Points
One of the fastest forms of Marking
Highly Flexible
Very reliable
Low running costs
No consumable costs
Technical Data
Long term power stability: 1-3%
Operating Temperature: 0 to 42 degrees Celsius
Active Air Cooling
3m Fibre optic in protective conduit with 8mm collimator/isolator
Power: Less than 200 W – 110 or 220 V
Average diode life exceeds 50,000 hours
Standard frequency: 20,000 to 200,000
(Pro frequency: 1,200 to 1,000,000 to enable clean engraving with no need for after treatment.)
Standard pulse width: 100ns.
(Pro pulse width: adjustable: 4, 8, 14, 20, 30, 50, 100 and 200ns)
Connects to PC via Ethernet connection, either direct cable or via LAN
Fume extractor auto start connector on rear
Programmable 24v digital I/O (8in,6 out)
Integrated rack controller (With or without control panel)
Focus finder
Motorised Z-Axis
Remote safety control panel
Lens Marking Areas:
| | |
| --- | --- |
| FT100 | 60x60mm |
| FT150 | 100x100mm |
| FT160 | 120x120mm |
| FT254 | 150x150mm |
(Other sizes available on request.)
Specification comparison
 

20W Economy

20W Standard

20W Pro

Pulse Energy

0.7mJ

1mJ

1mJ

Average Power

18.5W

20W

50W

Beam Quality M2

1.3

2.0

2.0

Polarization

Random

Random

Random

Power Adjustment

10 – 100%

Pulse Duration @ 20KHz

~85ns

100ns

1.5, 2.5, 4, 8, 16, 30,

50, 120, 200, 350

Repetition Rate

30 KHz to 60KHz

2 KHz to 200 KHz

2 KHz to 4000 KHz

Long Term Power Stability

5%

Operating Temperature

0 to 42°C

Cooling

Active Air Cooling

Fibre Optic

2.5m

3m

3m

Power

Less Than 200W – 110 or 220 VAC

Product Warranty

2 years as standard
Laser Option Description
Economy
The latest development Pryor Economy Laser incorporates many of our proven components, technology and software innovations, to offer our customers a cost effective marking solution for their application.
In comparison with the rest of the Pryor range, the Economy 20W Laser has a lower frequency capacity (20kHz to 60kHz), meaning specialised high frequency surface marking and annealing might not be possible.
The overall average power output of the laser source as well as the average pulse duration is less when comparing directly with our "Standard" laser.
The Economy Laser is most suited to general metallic material marking applications, but still offers excellent marking quality and reliability.
We offer our Economy laser with a one year warranty.
Standard
Our Standard 20W Laser has proven to be a reliable and high quality marking solution for our customers. It offers a wider frequency range (20kHz to 200kHz), capable of producing high contrast surface marking on a wide range of materials.
The Standard Laser is highly suited to high volume, high variety output and is offered with a two year product warranty.
Pro
The Pro 20W Laser system has been a go-to product for specialist marking requirements and materials. The Pro offers the greatest mark variability with a frequency range of 1.2kHz to 1MHz. This flexibility allows our customers to utilise the Pro for deep, clean engraving as well as super high frequency surface marking and colouration. The wider laser frequency range and variable pulse width provide a greater success when marking uncommon materials, such as plastics.
The Pro Laser is highly suited to high volume, high variety output and is offered with a two year product warranty.
Accessories